Buffalo Infertility and IVF Associates
Lab Staff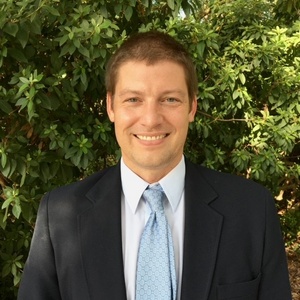 Dr. Peter Wieckowski
IVF Laboratory Director
Dr. Wieckowski brings over 20 years' experience to our Embryology Laboratory. He has been an active Embryologist and Laboratory Director to many programs over the years in New York, Massachusetts, Florida, and South Carolina.

Dr. Wieckowski completed his Bachelor of Science degree at the State University of New York at Geneseo. Dr. Wieckowski began his career in fertility working locally as a junior embryologist in the laboratory of Reproductive Medicine and IVF, in Western New York. This was under the guidance of his father, Dr. Jan Wieckowski. Settling in Charleston, SC after some time, Peter began his graduate work and earned his Ph.D. from The Medical University of South Carolina in Charleston, SC. His doctoral research focused on the roles of gene expression in cell differentiation, and early embryo development. After graduate school Dr. Wieckowski was a laboratory supervisor and embryologist at Southeastern Fertility Center, and Laboratory Director at the Fertility Center of Charleston. Eventually returning to the Northeast, Dr. Wieckowski settled in New England and is the Laboratory Director of Fertility Centers of New England, just north of Boston.

Peter is particularly interested in cryopreservation technologies utilized in oocyte and embryo freezing and in pre-implantation genetic testing. His efforts resulted in the first live birth from a cryopreserved oocyte in South Carolina. Peter is certified by the American Board of Bioanalysis as a High Complexity Laboratory Director and is a New York State licensed Director of Laboratories. He is also an active member of the American Society for Reproductive Medicine.

When away from the lab Dr. Wieckowski enjoys time with his wife Jennifer and kids, Matthew, and Elizabeth. The family always enjoys the short trip back to the Buffalo from Boston to have the best wings and pizza on earth, and visit where everything began.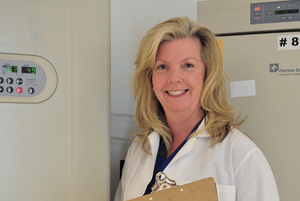 Lisa Cowan, MSc.
Tissue Bank Director
Lisa Cowan (MSc.), is the Tissue Bank Director for the Infertility & IVF Medical Associates of WNY. Lisa received her Master's of Science degree in Clinical Embryology from the University of Leeds, UK and has been avidly involved with the development and delivery of assisted reproductive technologies since 1992. Lisa joins our program after 22 years as IVF Laboratory Director in Canada, most recently with the Victoria Fertility Centre, British Columbia. She has been a national and international leader in professional development, and education. Lisa was the Allied Health Director for the Canadian Fertility and Andrology Society as well as ART Laboratory Special Interest Group Chair. Internationally Lisa held an executive board position with the Alpha Society (Scientists in reproductive medicine). Lisa is a strong believer in patient education, making great efforts to bring an understanding to the very stressful process of assisted reproduction. Her main focus is on fertility preservation relating to oocyte cryopreservation. Lisa is part of a team working towards providing safe and successful options to women wishing to preserve their fertility. Her research interests include investigating predictors of embryo multinucleation and mechanisms involved with continued development and cell death. Lisa's vast experience and leadership skills have enabled our laboratory and clinical team to provide optimal services in a positive environment.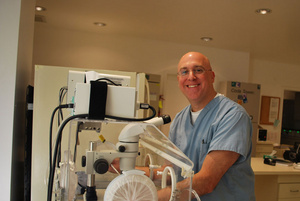 Peter Vaccaro BSc., TS (ABB)
Senior Embryologist, Andrology & Embryology Laboratory Supervisor
Peter Vaccaro holds an earned BSc. Biology degree from the University at Buffalo. He is one of the founding Embryologists with our program from early beginnings at Children's Hospital, and has 21 years of experience in assisted reproductive technologies. Peter has been instrumental in successfully implementing sophisticated laboratory microsurgical services allowing our laboratory to stand out as a Center of Excellence. He currently is the Andrology & Embryology Technical Laboratory Supervisor and is certified through the American Association of BioAnalysts (ABB). He is an active member of the American Society of Reproductive Medicine and participates in nationally organized educational programming. His main interests include the evaluation of fertility preservation techniques and quality improvement initiatives.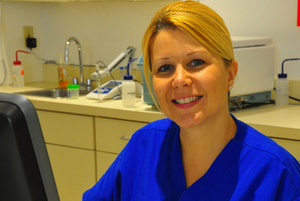 Melissa Morrow, BS, MT, (ASCP)
Andrology/Embryology technical specialist
Melissa has been an important part of the laboratory team at Buffalo IVF since 2010. She holds
an associate's degree in Medical Laboratory Technology from Alfred State College and a
Bachelor's degree in Medical Technology from Daemen College. Melissa has been certified
through the American Society of Clinical Pathologists (ASCP) and performs technical services in
both our andrology and embryology laboratories.
Melissa's experience enables our laboratory team to perform at optimal efficiency due to her
planning abilities and attention to laboratory operations and data management. Melissa's area of
interest is laboratory organization and standardization.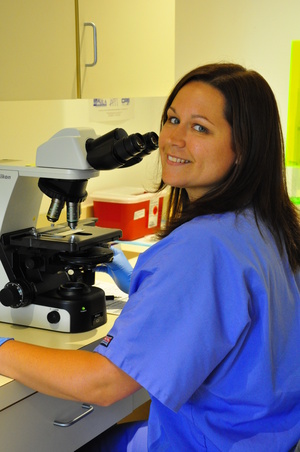 Jennifer Florea BS, MT, (ASCP)
Andrologist
Jennifer joined the Buffalo IVF Andrology laboratory in 2013. She holds a Bachelor's of
Biology from St. Bonaventure as well as a degree in Medical Technology from the University of
Buffalo. Jennifer has certification through the American Society of Clinical Pathologists (ASCP)
and is our andrologist performing diagnostic semen analyses, as well fertility cryopreservation.
Jennifer is a current member of the American Society of Andrology.
Prior to joining the Buffalo IVF laboratory team, Jennifer was involved in prostate cancer
research at the Roswell Park Cancer Institute. Jennifer's extensive laboratory education, research
abilities and hands on experience enables Buffalo IVF to offer comprehensive andrology
services.
Jennifer is an important part of our multidisciplinary team providing clinical parameters used to
direct clients in a forward direction towards family building. She is the friendly person you can
reach by phone when scheduling andrology procedures with the ability to provide the necessary
information when coordinating multiple appointments and laboratory services. Her main
interests are oncofertility and mechanisms of testicular failure.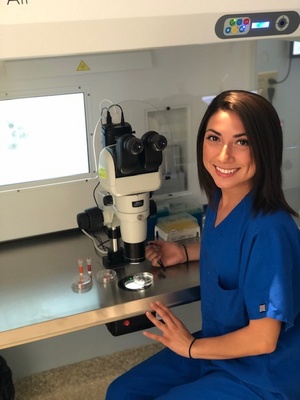 Jorgette Echevarria, BS
Embryologist
Jorgette joined the Buffalo IVF embryology laboratory in 2018 and has quickly become a key member of our embryology team. She earned a Bachelor's degree in Biology from Fredonia State University. Prior to joining our team, Jorgette worked as an immunology technologist performing analytical biochemistry assays. Jorgette has excelled through extensive training from laboratory experts both in house and at the Ovatools Institute under the direction of Dr. Kathy Miller. Jorgette is proficient in all aspects of assisted reproductive technologies, including oocyte retrieval, sperm preparation, intracytoplasmic sperm injection (ICSI), embryo culture, preimplantation genetic testing (PGT), embryo cryopreservation and thawing, and embryo transfers. Jorgette is passionate about applying her skills, and enjoys seeing the tangible outcomes of her work on a daily basis.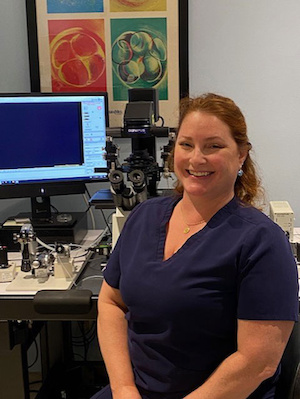 Melissa Zaczek
Embryologist
Melissa joined our team of scientists at Buffalo IVF in 2020. She has a Bachelor's degree of Biology from Buffalo State College and brings a wealth of laboratory experience. She has previously worked in local virology and immunology laboratories. Her skills have allowed her to easily transition into her role as an embryologist. Melissa's main area of interest is in genetics and embryo competency. "Helping couples achieve their dreams of having a family is the most satisfying reward imaginable".