Buffalo Infertility and IVF Associates Team
Colby Damon, NP
Nurse Practitioner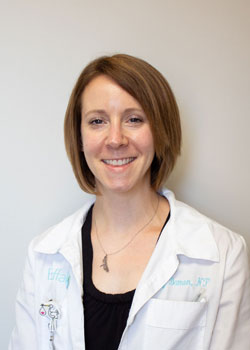 Colby Damon, MSN, BSN, RN, WHNP-BC is a board-certified Women's Health Nurse Practitioner who graduated with honors from the State University of New York at Buffalo and received a Master's degree in nursing in 2011. She received a Bachelor of Science degree cum laude in nursing from Daemen College in 2007 and an Associate in Applied Science degree from Niagara County Community College in 2005.
She began her career as a registered nurse at Kenmore Mercy Hospital in 2005, but soon realized her passion lay in caring for women. She became a Labor and Delivery Nurse at Women and Children's Hospital of Buffalo in 2006 and since then has worked extensively as both a Registered Nurse and Nurse Practitioner in obstetrics and gynecology, as well as in high risk obstetrics. In 2016, Colby was awarded the Nurse Practitioner of the Year Award through the WNY Perinatal Bereavement Network for her dedication and compassion in caring for bereaved families.
Colby is a member of Sigma Theta Tau, the national nursing honor society, and the National Association of Women's Health Nurse Practitioners. Colby also belongs to the American Society of Reproductive Medicine and has completed the American Society for Reproductive Medicine Nurse Certificate Course on Reproductive Endocrinology and Infertility.
Colby was born and raised in the Buffalo area, and along with her husband Sean is raising their very active twins Piper & Reilly. She is an avid reader who enjoys working out, being outside with her kids, and spending time with family and friends. Colby joined the Buffalo IVF team in June of 2017 and is thrilled to be a part of a practice that helps other families have a family.

Colby's role at Buffalo IVF includes:
Seeing patients during their screening period to perform exams, biopsies, and ultrasounds

Seeing patients for monitoring who are undergoing treatment cycles as well as patients during their early pregnancy

Performing ultrasound monitoring for follicle studies as well as early pregnancy ultrasounds

Performing intrauterine inseminations (IUI) during a treatment cycle

Conducting follow up visits to discuss treatment options

Seeing patients who are interested in growing their family using donor insemination (AID)

Seeing patients who are interested in the cryopreservation of sperm